EPHRATA- With the regular season winding down, the games are getting more and more important for every team. Some teams took missteps this week while others are firmly on track.
Moses Lake (1-3) (2-5) @ West Valley (Yakima) (1-3) (2-5)
Final score: West Valley 27-7
Postseason hopes for the Moses Lake Chiefs are now shot. After taking the conference for the past three seasons, the Chiefs will miss the state playoffs this year. The team is very young and will have a chance of redemption next season. As for the remainder of this season, a winless Southridge team comes to town next week.
Ephrata (2-1) (3-4) @ Selah (1-2) (5-2)
Final score:  Selah 38-7
This game didn't reflect league standing. Selah lost its way out of the postseason so it took its frustration out of an Ephrata team that's defense finally broke after two weeks of spectacular play. Ephrata needs to win next week against East Valley (Yakima) in the wake of Othello's win.
Othello (3-1) (4-3) @ Ellensburg (2-1) (3-3)
Final score: Othello 10-7
What a game. Othello relied on its defense heavily through the entire second half and kept Ellensburg's high-powered offense in check. A late game score tied it up but a muffed punt by Ellensburg gave Othello the win. Ephrata and Ellensburg need to win next week to finish with a three-way tie, which will cause a play-in.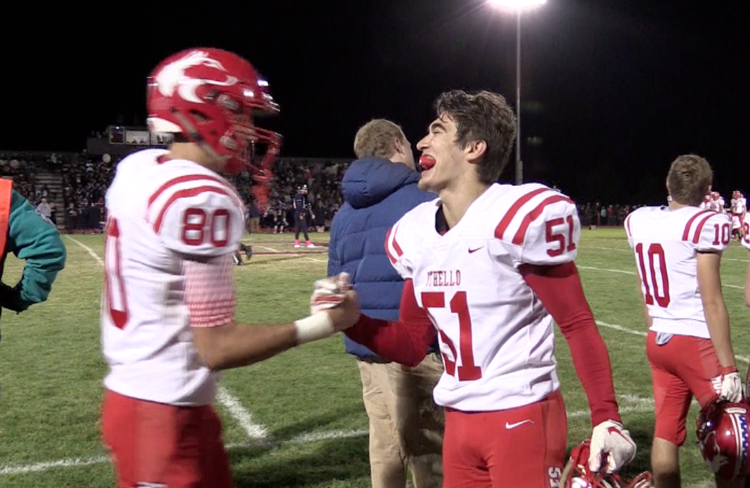 Quincy (0-3) (2-4) @ East Valley (Yakima) (1-2) (3-4)
Final score: East Valley 33-30
A wild shootout until the end, East Valley managed to land on the winning side of things this time. Quincy returns home next week and will have a shot to ruin Ellensburg's season. Quincy has scored 30 or more points in half of its games this year.
Royal (4-0) (7-0) @ Kiona-Benton (2-2) (3-4)
Final score: Royal 55-0
Royal continues to roll through the regular season with another blowout win. The score was 55-0 at halftime and Royal let off the gas in the second half. One notable thing about this game was backup quarterback, Caleb Christensen got serious reps in at quarterback. He completed seven of his 15 passes for 101 yards with a touchdown and a pick. Considering Royal's starting quarterback, Sawyer Jenks, is a senior, it doesn't hurt to get the sophomore quarterback more playing time.
Warden (2-2) (4-3) @ Connell (3-1) (4-2)
Final score: Connell 20-6
Warden has never beat Connell but this year was the closest it's been in ages. Warden took advantage of Connell's down year to make a push for the No. 2 seed in the conference. Connell won, but considering how close this game was and how close the Okanogan game was to start the season, Warden's showing it can compete with state contenders.
Wahluke (1-4) (3-4) @ College Place (2-3) (4-3)
Final score: College Place 36-25
Tough break for Wahluke, which saw its postseason hopes all-but die last night. There's a chance that Wahluke, Kiona-Benton and College place could all finish 2-4 in the conference, which could lead for a second chance for Wahluke.
Soap Lake (1-3) (3-3) @ Brewster (4-0) (5-2)
Final score:  Brewster 54-28
Brewster scored 54 or more points for the third game in a row. Soap Lake managed to hang 28 points on Brewster, which is the most a 2B school has scored on them all season. Soap Lake will finish its month-long road trip next week at Lake Roosevelt.  
Almira-Coulee-Hartline (4-1) (6-1) @ Pateros (2-3) (3-3)
Final score: ACH 70-6
Almira-Coulee-Hartline came out firing on all cylinders to bounce back from last week's loss. Pateros got crushed into the ground, with the score 42-0 in ACH's favor by the end of the first quarter. ACH hit the 70-point threshold for the fourth time this season. ACH will be at home for the last two weeks of the regular season, against Wellpinit and Waterville, neither of which hold a winning record.