EPHRATA - Grant County is now eligible to submit a variance application to move into Phase 2 of the state's reopening plan.
Grant, Cowlitz and Pacific counties were added to the list on Thursday.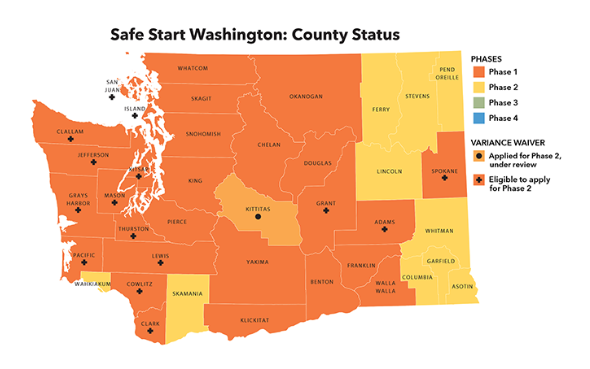 To apply for the variance, the county must include a public health officer's recommendation, a letter from hospitals confirming bed capacity, and a county commission vote. Grant County commissioners are holding a special meeting on Friday and are expected to approve Grant County's variance request for Phase 2. 
Counties must also submit testing data and information on resources available for contact tracing.
The second phase of the state's reopening plan allows camping, and new construction, as well as in-store retail purchases, with restrictions. Barber shops and salons could also reopen at that time, and restaurants could reopen at half capacity and table sizes limited to five. The third phase would expand group gatherings to 50 or less, including sports activities, and would allow restaurants to increase capacity to 75 percent. Gyms and movie theaters could reopen at half capacity, but nightclubs and entertainment venues will still remain closed during this phase. During the last phase, most public interactions would resume, with social distancing remaining in place for high-risk populations, with bars, restaurants and entertainment and sporting venues returning to their maximum capacity. Inslee has said the public should expect a minimum of three weeks between phases.
Grant County Health District officials on Wednesday said they are working to have everything in place to meet the state's expectations for the Phase 2 variance.
Ten counties in the state have already been approved to move to Phase 2. Adams, Clallam, Clark, Grays Harbor, Island, Jefferson, Kitsap, Lewis, Mason, San Juan, Spokane, and Thurston counties have applied and are awaiting approval.