OLYMPIA - The state's new "Healthy Washington" COVID-19 plan goes into effect on Jan. and based on the initial metrics, the North Central Region — Douglas, Chelan, Grant, and Okanogan counties — are not eligible to move forward.
In fact, no region in the state will qualify on Monday for phase 2 of the state's new reopening plan released by Gov. Jay Inslee on Wednesday.
Under phase 1, restrictions will remain unchanged from the previous restrictions implemented in mid-November except some outdoor entertainment — limited to 10 ticketed guests — is allowed and appointment-based fitness training with one client per 500 square feet is also allowed, along with activities like outdoor tennis instructions, gymnastics, and no-contact martial arts, as long as it is limited to five participants.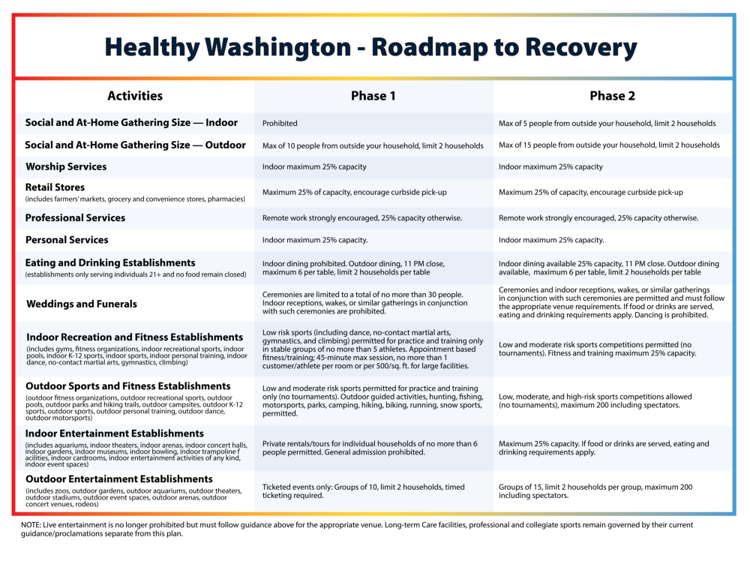 The new guidelines require regions to meet four metrics to move to the next phase, at which point restaurants and indoor fitness centers can open at 25 percent capacity, sports competitions can resume with limited spectators, and wedding and funeral ceremonies can increase their number of guests.
Every Friday, the state Department of Health will evaluate regional COVID-19 case rates, hospital admission rates, ICU occupancy rates and test positivity rates. In order for a region to advance to phase 2, the region needs to have: a 10 percent decreasing trend in case rates over a two-week period; a 10 percent decrease in COVID-19 hospital admission rates in the same time period; an ICU occupancy rate less than 90 percent; and a positive test rate of less than 10 percent.
According to date released Friday, the North Central Region meets two of the four metrics for Phase 2.