MOSES LAKE - The Moses Lake School District may need to search for another location for its new elementary school after the proposed site was unanimously opposed Tuesday night by the Moses Lake City Council.
The school board has not made any determination on the proposed site being considered for purchase on the southwest corner of Road L Northeast and Wheeler Road but school district Superintendent Dr. Josh Meek says there isn't much hope for that location without the city's support.
District and city officials have been working to address concerns relating the proposed site located east of Moses Lake. The council had previously, and continues, to voice concern over the proposed location and its proximity to the Moses Lake Municipal Airport.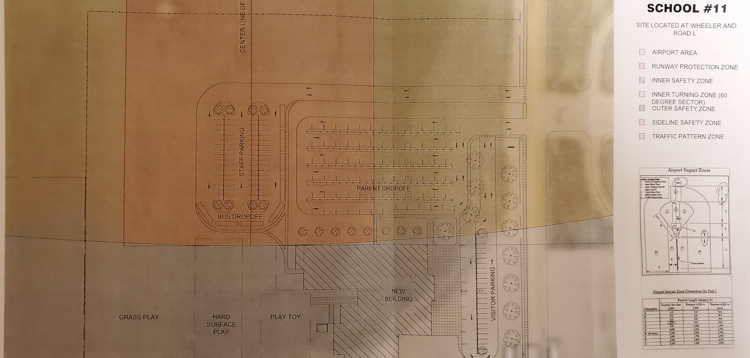 According to city records, a portion of the 78-acre parcel is located within the city's municipal airport protection zone, a zone mandated by the state Legislature.
While the district did reconfigure the layout of the new school, placing the actual school buildings outside of the protected zones, the changes weren't enough to entertain support from the council Tuesday night.
"It is disappointing that despite our efforts to find solutions and workable plans we are met with resistance and an unwillingness to explore solutions," Meek stated in a press release following the meeting. "Large parts of Moses Lake are covered with area impact zones between our two airports. We always take safety as a consideration when selecting school sites. To suggest otherwise, with no plausible solutions presented, is short sighted. We were told that it is 1,000 times more difficult to site an airport than a school. I would greatly challenge that assumption. We selected an area of our proposed property that WSDOT has declared outside of the impact zone. The entire building is outside of those danger zones. However, those efforts were met with personal and professional biases by the City Council."
Council member Daryl Jackson, an experienced pilot, did not mince words during Tuesday's meeting.
"Just, quite frankly, this is a ludicrous proposal, sir," Jackson told Meek. "I can see no reason the council would approve this."
The proposed site is located in the city's Urban Grown Area and would require annexation or a request to connect to city services, something Jackson said the currently council likely wouldn't approve.
Council member Dean Hankins, also a pilot, called the proposed site "unsuitable."
City records show the location could also have a negative impact on the airport operations and future development, and approval of such use could conflict with city land use as well as WSDOT Aviation's recommendations. The WSDOT Aviation Division has already sent a letter to the city discouraging the building of the new school within the protection zone.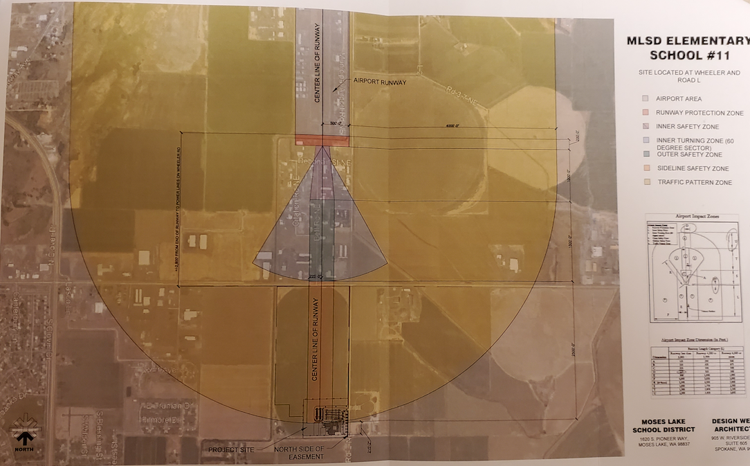 "Our work will continue to find a school site," Meek stated. "But with each day, and each site identified, those same children we are trying to find a school site for continue to attend school in overcrowded schools that force them to cross a state highway. This year Lakeview Elementary has enrolled nearly three classrooms full of extra students over projection due to growth in the area. This problem is not new, nor going away, and unfortunately all we are met with are comments stating there is support of schools but actions that say otherwise. Schools in Washington state have rigorous considerations when selecting a school site that must be followed. These requirements include development within the urban growth area, paying no more than appraised value for property, lack of impact on traffic in the immediate area, safety, environmental, and development considerations. Over the last five years the Moses Lake School District has been actively pursuing land options that meet all of these requirements, and are aligned with residential growth and development in the area. Unfortunately, none of those efforts have resulted in a site that meets all of the requirements. Currently, there are over 200 students elementary age children that all have to be transported or walk across Highway 17 to attend school at Lakeview Elementary and Garden Heights Elementary. The nature of the housing in this area presents high concentrations of young families with school age children. Additionally, many of these residences also currently exist in the zones deemed 'impact zones' with local air traffic. So while they meet the density requirements to be built, continued residential development in this area is compounding the need for schools and being constructed in areas declared unsafe for schools by the City Council, yet acceptable for personal homes."