EPHRATA - Now is the time to stock up on hunting supplies if you haven't already. Washington's most popular hunting seasons will begin Oct. 12 with the season opening of modern firearm deer and waterfowl hunting.
"Overall, hunters should expect good opportunities for mule deer along the east slopes of the Cascades in Chelan and Okanogan counties, good opportunities for white-tailed deer in northeast Washington, and good to excellent opportunities for black-tailed deer throughout western Washington," said Brock Hoenes, Washington Department of Fish and Wildlife (WDFW) deer and elk section manager.
"Opportunities will be limited for elk hunters in eastern Washington this year, but elk hunters west of the Cascades can expect seasons similar to last year, with the best opportunities being associated with the Willapa Hills and Mount St. Helens elk herds," said Hoenes.
"All indications are the black-tailed deer and most elk populations west of the Cascades have remained stable," said Hoenes. "Severe weather and wildfire events in recent years have contributed to declines in some of Washington's deer and elk herds in eastern Washington and populations remain below historical levels. The department has restricted doe and cow harvest in those areas to rebuild those herds."
What to hunt and where to go in Grant and Adams counties:
Grant and Adams counties are known for having some of the highest game bird populations. Game birds include pheasant, chukar, partridge, quail, doves and waterfowl (ducks and geese). These birds are usually hunted from Sept. 1 through Dec. 31. The following is a map depicting the higher density area of various breeds of game birds: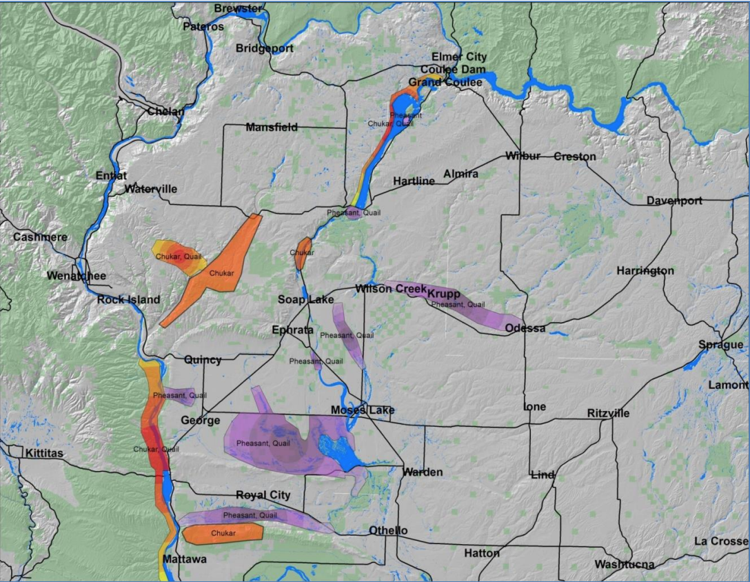 As for waterfowl, they can be found primarily in areas that include: Wanapum Closure (Columbia River), Winchester Reserve, Potholes Reserve and Columbia National Wildlife Refuge Marsh unites. Waterfowl is typically hunted from Oct. 12 through Oct. 30 and Nov. 2 through Jan. 26.
As for deer, mule deer predominantly occupies Grant and Adams counties. Depending on the weapon and permit class, deer is hunted from Sept. 15 through Dec. 15. The following map illustrates local deer herd locations: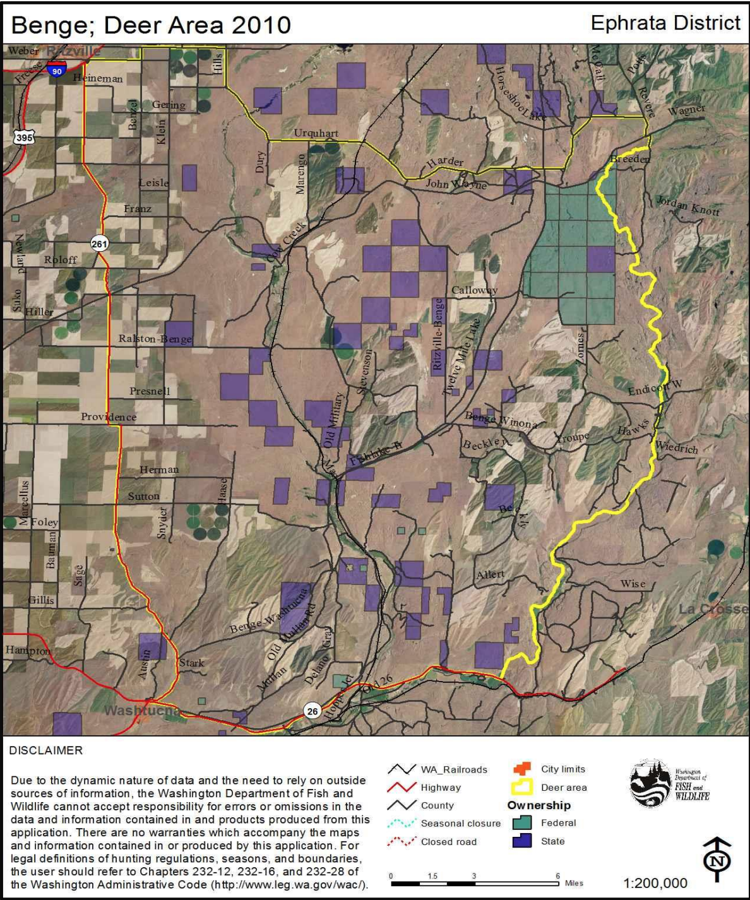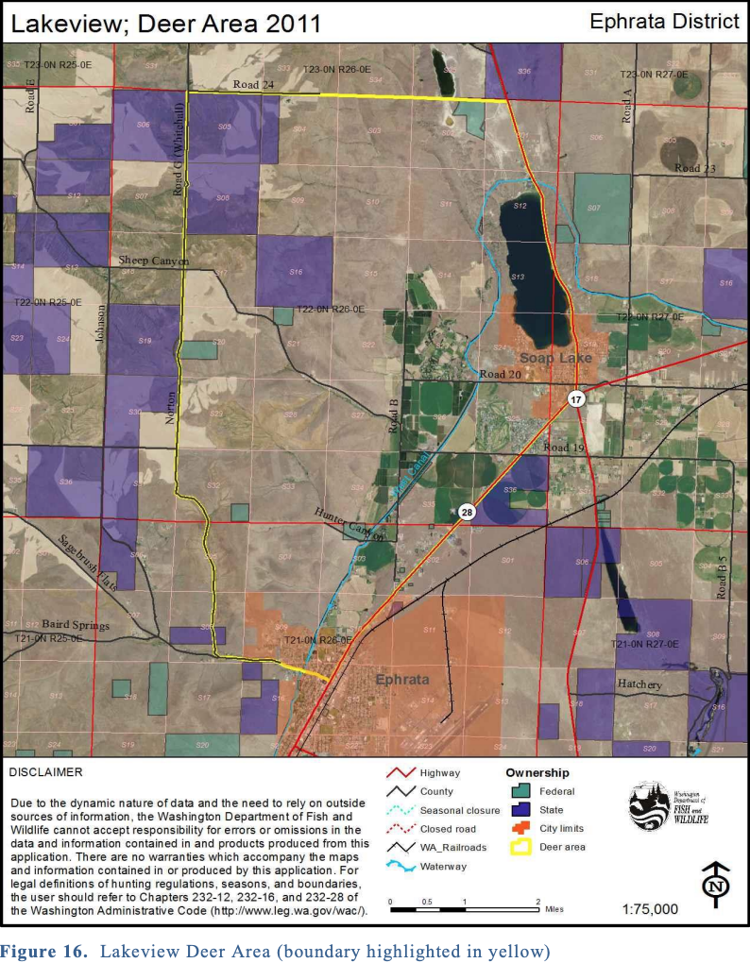 Elk 
If hunters wish to hunt elk in Grant and Adams counties during the 2019 season, they should seek access on private lands in the eastern portions of Benge, Washington. Without access to private lands, the public land opportunities are very limited. Hangman Creek sub-herd of the Selkirk herd. This herd is composed of approximately 300 individuals and occurs approximately 16 miles to the northeast at Turnbull National Wildlife Refuge. These elk enter into Benge-area, where they are harvested.
Twelve elk in the Benge area (7 bulls and 5 cows) were harvested during 2018, all of which were taken by modern firearm hunters. Depending on the weapon and permit class, Elk is usually hunted from Aug. 1 through Jan. 20.
Bear
Grant and Adams counties are not optimal areas to target black bears. Occasionally, bears may disperse through this district, and the most likely places to encounter those animals are the Beezley Hills and Moses Coulee. Bear can be hunted from Aug. 1 through Nov. 15.
Cougar
Grant and Adams counties area not optimal areas to target cougars. However, the most likely places to encounter cougars are Beezley Hills, Moses Coulee, and adjacent to the Crab Creek drainage upstream from the town of Stratford. Hunters take the majority of cougars incidentally when they are hunting other predators. Cougars can be hunted from Sept. 1 through Apr. 30. 
Small Game
Small game in Grant and Adams counties is comprised of bobcats, raccoons, foxes, crows, coyotes, cottontail rabbits, turkeys. Small game is typically hunted from Sept. 1 through Mar. 15 and Sept. 1 through Dec. 31 for forest grouse (turkeys). Coyote hunting is year-round.
The following chart explains where hunters can find particular game species in Grant and Adams counties: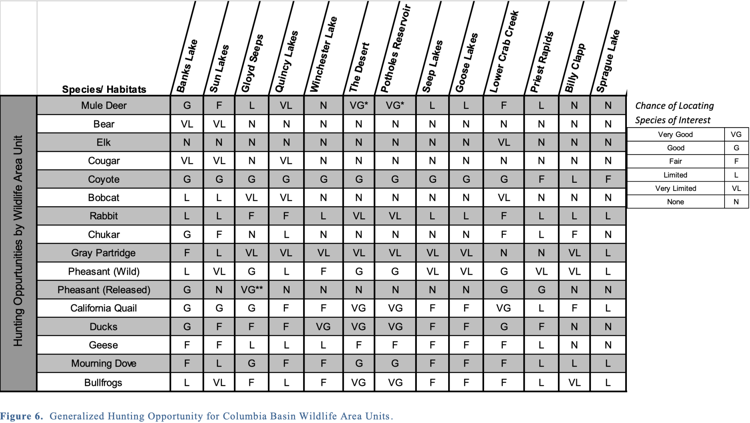 Depending on the species of animal, you'll want to visit wdfw.wa.gov to find out additional season timelines, rules and regulations.
What to hunt and where to go in Chelan and Douglas Counties 
The following excerpt was taken from Washington's Fish and Wildlife Hunting Prospect report: 
Split in two by the Columbia River and comprised of Chelan and Douglas counties, the Wenatchee District is at the heart of Washington State. From the crest of the Cascade Range to the shrubsteppe of the Columbia Basin, District 7 offers an incredibly diverse range of habitats and hunting opportunities. Hunters in District 7 have access to a variety of small and big game species, with hunting opportunities ranging from agricultural fields and sagebrush to alpine basins tucked away deep in the wilderness.
Big Game: Almost all the deer harvested in District 7 are mule deer, with very few white-tailed deer. Lesser known is that there are black-tailed deer in Chelan County, and that the mule deer share more black-tailed genes than hunters realize. Elk are present primarily along the southern edge and central portions of Chelan County. These elk are the northern extension of the Colockum Herd, centered to the south in Kittitas County.
Black bears roam across almost all habitats in Chelan County. Their densities are higher in the wetter timbered habitats in western Chelan County and near the crest of the Cascades, and at somewhat lower densities in drier habitats farther east. Hunters harvest few black bears in
Douglas County, but they do occur in small numbers in brush filled riparian draws along the Columbia River and other drainages.
Cougars occupy all the habitats where deer and elk are located, and while most cougar harvests take place during deer and elk seasons, the cougar harvest typically does not meet the harvest guidelines in most years. Winter conditions and fresh snow determine how easy or difficult a dedicated cougar hunt will be.
There are three California bighorn sheep herds in the district, the Swakane, Chelan Butte, and Manson herds. The world's record California bighorn sheep came out of the Swakane herd in Chelan County in 2010, and the Chelan Butte herd has become known for producing trophy class California bighorn rams.
Mountain goats occupy most all of the high elevation habitat in Chelan County and numbers are increasing. For now, hunting opportunities for mountain goats are limited to areas bordering Lake Chelan.
Upland birds: Upland bird hunting is available across the district. Turkey hunting occurs mainly in Chelan County, but numbers are growing in northern Douglas County, and some newly acquired wildlife areas are expanding opportunities. Huntable grouse species are in forested environments in both counties. Hunters can pursue sooty, dusky, spruce, and ruffed grouse in different parts of the district. The three other grouse species -- greater sage grouse, sharp-tailed grouse, and white-tailed ptarmigan -- are protected species in Washington. Chukar partridge require hunters to climb steep ridgelines and traverse rocky slopes to bag their quarry. Valley quail, as their name suggests, prefer gentler terrain and usually stay in greater numbers near agricultural areas. Gray partridge, or huns, are found primarily in Douglas County. Doves are hunted in both counties, but most of the success is from Douglas County. There are two ring-necked pheasant release sites in Chelan County (Swakane and Chelan Butte wildlife areas).
Small Game: Coyotes are the most widely adaptable species in the state, and as such, found most anywhere. Bobcats are another widely distributed species hunted across a wide range of habitat from high mountains to dry shrubsteppe. Raccoons are almost everywhere, except the highest peaks and the driest desert. Crows are another small game species available, and likely little pursued. Rabbits and hares offer hunting opportunity throughout the district, with snowshoe hares at higher elevations (mainly in Chelan County) and cottontail rabbits in a variety of habitats in both Douglas and Chelan counties.
Waterfowl: Ducks and geese offer opportunities in different portions of the district. The bulk of the waterfowl hunting is along the Columbia River, with ducks being the primary focus. Goose hunts are mainly in Douglas County, but opportunities are also available along the Columbia River.