WENATCHEE — Jorge Duarte-Tapia swore an oath to protect this country when he joined the U.S. Army in June 2006. He remembers swearing a second oath, before he deployed for 18 months in Iraq, to become a U.S. citizen.
But now, U.S. Immigration and Customs Enforcement says the 31-year-old from Warden, Washington has spent his life in the country illegally, and could be deported at any time to his birthplace in Sinaloa, Mexico.
"My parents were immigrants, and me being the only child and the oldest, having my green card was kinda like, I need to get my citizenship," Jorge says. "I graduated high school with that mentality, and that's why I had joined the military, to just get it. And for now, it's just kinda like a kick in the butt, because they're saying I really don't have it."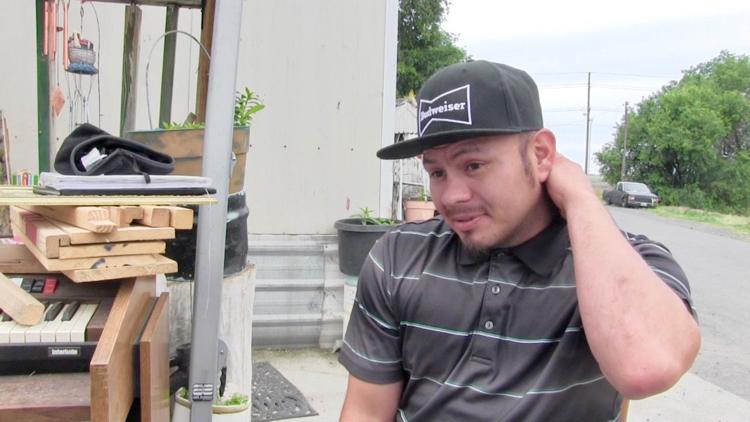 Jorge's family brought him to the United State at age 3. He says his recruiter and superiors at the Spokane Military Entrance Processing station guided him through the steps, and he was naturalized in a short ceremony.
"They told me I had to be a citizen, and that I had to go through that ceremony first, before I would go through the ceremony of being sworn in as a soldier."
This was a common practice for the military until 2018, when Citizenship and Immigration Services centers that had operated on Army bases were closed. Those centers used to offer fast-track naturalization once new recruits like Jorge had completed basic training. Their closure came after the Trump Administration ordered stricter background checks and longer service periods for immigrant soldiers before they could become citizens.
"Back then I was just kinda like, Yeah, I'm gonna get my citizenship, I'm not gonna have to worry about it, I'm gonna go fight for this country that I've been living in," Jorge says.
Jorge was trained as a combat engineer. In October 2007 he deployed to Forward Operation Base Caldwell east of Baghdad, working in supply and logistics. He returned to the U.S. in March 2009. Since leaving the Army the following year, Jorge has worked in agriculture and other blue-collar jobs around his hometown of Warden. 
He started using methamphetamine, and in late May he was in the Grant County Jail on a domestic violence case when ICE found him and told him he could be forced out of the country. Deportation agents took him to Yakima for his first intake, and released him wearing an ankle monitor. The experience, he says, was "dreadful."
"I couldn't think of anybody to all, and the first person I called was my dad, and he goes, What? You're getting deported? I'm like, literally, that's what they told me: 'As of right now, you have this charge on you, and you don't have any papers.' Because my green card expired back in 2014 …  'We can literally just send you back because we have no history or paper documentation that we can find that says that you're a U.S. citizen, or that you've been working with a legal permanent resident card, or even a working visa.'"
Jorge says he hasn't been able to find the relevant documents that would prove his case. The Army Recruiting Battalion for the Northwest confirms he joined the military with a valid I-1551 permanent resident card, but says it has no documents regarding his naturalization.
However, Adams County Auditor Heidi Hunt says Jorge registered to vote in June 2008 — something only available to U.S. citizens. One of the addresses listed on his registration was FOB Caldwell in Iraq.
Hunt's records show, and Jorge confirms, that he never cast a vote. In the 2016 and 2018 elections, his mail ballot was returned as undeliverable, and the county purged his registration in January 2019.
"If you're inactive for two federal elections, then you're purged from the system," Hunt says. "It's nothing that he did, other than not responding with a current registration."
U.S. Citizenship and Immigration Services is the agency that oversees naturalizations. Asked about Jorge's case, and provided with the Alien Registration Number that identified him prior to naturalization, the agency declined to provide any information. "As a matter of policy USCIS doesn't comment on individual cases," a spokeswoman said. Jorge says he's asked the agency for his naturalization records, and was told it could not find any. 
In the last three years, immigrant veterans like Jorge have found themselves subject to deportation right alongside those who never served. One estimate says 2,000 veterans have been removed from the country. Homeland Security is required to provide extra scrutiny to veterans' deportation cases, but a June report by the Government Accountability Office found that ICE has not followed its own rules on handling veterans' cases, and has no policy to identify and document the veterans it screens prior to removal.
"Because ICE did not consistently follow these policies," the report says, "some veterans who were removed may not have received the level of review and approval that ICE has determined is appropriate for cases involving veterans."
Jorge was told until his case is resolved, he has no legal work permit, putting him out of a job while he awaits a resolution. He and his partner have two small children.
Since mid-June, he's been undergoing court-ordered drug treatment in Wenatchee. Jorge is due to meet with ICE agents again July 15.
Jefferson Robbins: 679-7013