ELLENSBURG — The Central Washington University report on state Rep. Matt Manweller's conduct with female students concludes that in both Ellensburg and Olympia, the professor-turned-legislator displayed sexual interest in current and former students, was twice reported for his conduct by House staff or interns, and put his hand on the knee of a female student and told her, "There's a way for you to get an A in this class." 
Released Wednesday by CWU in response to an iFIBER ONE records request, the 93-page reports includes summaries of interviews with 16 current and former students who complained of Manweller's behavior; accounts from 21 corroborating witnesses who were told of or observed the incidents at the time; and Manweller's responses to each instance, given during a four-hour interview with CWU investigators on June 5.
Manweller, who was an associate professor of political science until Central fired him Aug. 14, is a Republican representing the 13th District in the state House of Representatives, first elected in 2012. Reached by text message, he said he would not comment beyond a press release and response video he issued Aug. 2, almost two weeks before being dismissed from the university where he's taught since 2003.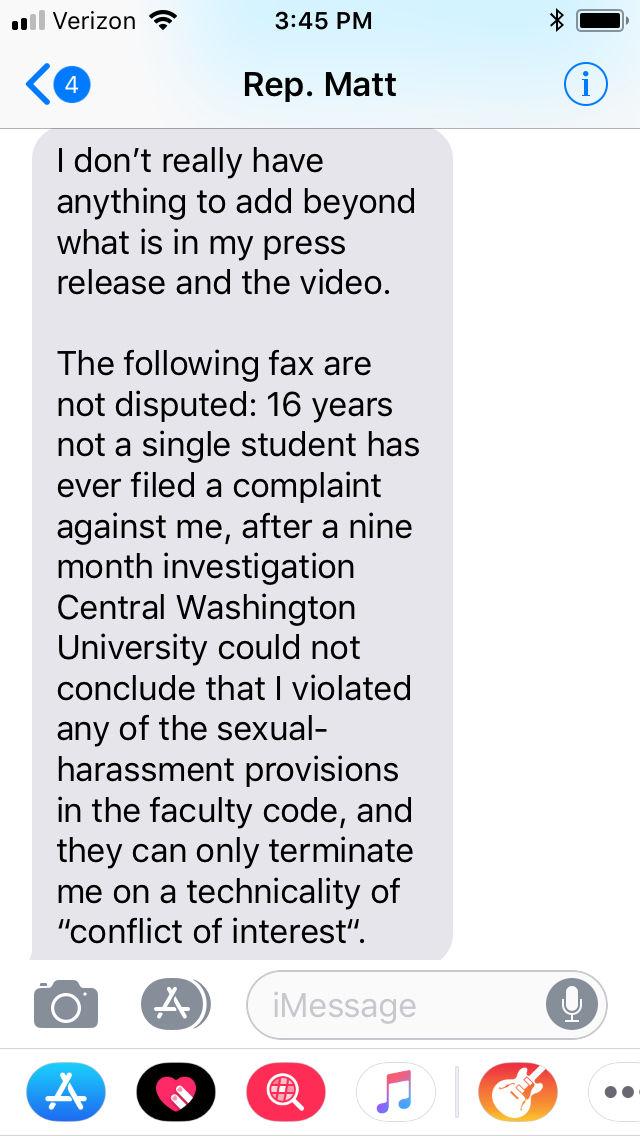 "The following fax (facts) are not disputed: 16 years not a single student has ever filed a complaint against me, after a nine month investigation Central Washington University could not conclude that I violated any of the sexual-harassment provisions in the faculty code, and they can only terminate me on a technicality of 'conflict of interest,'" he texted.
The letter of termination to Manweller from CWU Dean Tim Englund, dated Aug. 14 and included with the investigative documents, bases his firing on "your ongoing failure to maintain professional ethics and conduct" under the university's contracts with faculty. The letter also criticizes Manweller's "insubordinate disregard of my instructions while on administrative leave to have no from contact with current or former students and your documented failure to respect the integrity of the investigation process."
CWU suspended Manweller last December during the investigation. The report finds that while suspended, Manweller called and sent messages to two former students who were being interviewed as witnesses in the investigation. "Are you seriously posting on my Facebook page after what you just did to my family?" one message read.
Of claims by women documented against Manweller:
He stared inappropriately at female students in his classes, and was witnessed by other students.
He made sexual comments about a 17-year-old and offered to take her to the movies while his wife was out of town.
He approached a female student at her campus lunch table without being invited and asked personal questions.
He offered alcohol, sexually complimented and inappropriately touched a CWU student who was babysitting his children.
He ogled and later contacted a House intern via personal email. The incident was reported to the House intern coordinator.
He invaded the personal space of a CWU student at a legislative reception in Olympia in winter 2014, and "told her that they needed to get to know each other better."
He put his hand on the knee of a female student who was struggling with school in 2009 and told her, "There's a way for you to get an A in this class." She withdrew from the class immediately.
He drank alcohol in a public tavern and interacted flirtatiously with two female students, complimented their bodies and asking them sexually probing questions.
He kissed a female student in his office in 2006 and "told her the sexual energy between the two of them was undeniable."
He had a consensual physical encounter with a CWU student who was not in his classes in fall 2006.
The dates of the allegations range from the mid-2000s, when Manweller was an assistant professor at Central and a local political organizer for Republican causes, to just last year, when he allegedly pressured a former CWU student turned House staffer to dine with him at a high-end Olympia restaurant. She said Manweller turned a work-related meeting into a dinner date by unexpectedly taking her to the restaurant, offering alcohol and food, flirting inappropriately and asking a variety of personal questions. He invited her to other meals and held out offers of potential employment, until she complained to the head of her House office. After the Seattle Times article in December paraphrased Manweller as saying "no sexual harassment complaints have been made against him in the Legislature," she contacted the reporter to contradict the statement.
Last week, Manweller filed a lawsuit accusing CWU of wrongful termination, and seeking damages of more than $2 million.
Manweller is seeking reelection in November against Democratic challenger Sylvia Hammond, who on Wednesday renewed a call for Manweller to step down from the Legislature. "I don't think the people of the district need a representative with this kind of cloud hanging over him," Hammond said. "... I just don't believe that he can do his job well, and the people deserve someone who can accomplish something for them."
In a statement on his campaign website, Manweller characterized his firing as a challenge to academic freedom. "The liberal University administration is also trying to silence my high-profile Republican voice on campus," he wrote.
This was only Manweller's latest round of investigations for misconduct at Central. The university previously investigated allegations in 2012 and 2013, but those probes did not result in disciplinary action. One inquiry found "evidence exists to suggest" that Manweller violated CWU's sexual harassment policies, but said the allegations could not be proven.
Details of prior harassment complaints came to light in a Seattle Times investigation last December, and some former students reached out to the university with new allegations, leading to today's CWU report.
While under investigation, Manweller was removed from one committee assignment in the state Legislature, and resigned as an assistant floor leader for Republicans in the House at the request of then-caucus leader Dan Kristiansen. A spokesman for state Rep. J.T. Wilcox, who succeeded Kristiansen as leader, said Wilcox plans to read the report and discuss it with Manweller and his leadership team.
Jefferson Robbins: 679-7013